Learn more
Do you know what is the best POS system solution?
Hintel solutions are innovative and practical embedded POS system solutions, which are especially designed for the POS industry by Hintel, and extremely distinguished from the traditional POS systems. It is also integrated with more functionality that are rich in features, reliable at the industry level and simple to set, use and maintain; these are the best POS system solutions for the small and midium-sized store business.
What are Hintel POS system solution benefits?
Hintel POS solutions are realistic and new generation innovation embedded POS system solutions to the retail industry. The retail operators can benefit from its multiple aspects, and run their business in the simple approach and cut much more operating expenses in the long run. This is ideal business machine in the retail stores.
HT-2103D PC-Based POS System
Category: PC-based POS Machine Publish Time: 2017-08-31 00:17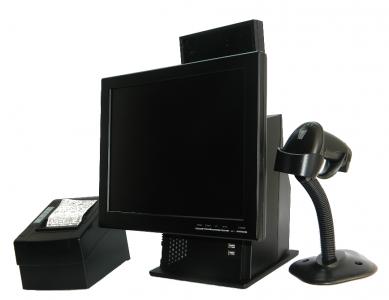 Model HT-2103D



This HT-2103D is a PC-based POS machine that has compact structure and decent appearance, which is designed for retail market, and very suitable for grocery store, supermarket, convenience store and so on. And for this machine, Hintel is available only for hardware platform solutions, customers are required to purchase the separate application management system softwares and OS from the third-party products and services.

Descriptions of product:

The HT-2103D is the traditional PC-based POS system for retail industry, it is compactly designed for grocery store, supermarket, convenience store and so on. This machine can be used as terminal station or back office system or both combinations together for different scale retail business, and it supports the operating systems including the Mac OS, MS Windows and Linux, and meets the requirements of all the specific retail business management. In addition, the system also includes the related peripheral devices such as thermal receipt printer, barcode scanner and cash drawer etc. Here are the system specifications for this model as follows:

System specifications:
| | |
| --- | --- |
| ● Motherboard: | ATX SV-Atom103 |
| ● CPU: | Intel Atom D525 1.86GHz |
| ● Chipset: | Intel NM10 |
| ● Hard Disk: | 500GB HDD |
| ● DIMM memory: | 2GB |

Front/rear panel port:
● 1 x PS/2 Keyboard
● 1 x PS/2 mouse
● 1 x LAN (RJ45) port
● 2 x USB on front panel
● 4 x USB on I/O back panel
● 1 x COM on I/O back panel
● 3 x COM (built-in )
● 1 x LPT port
● 1 x Stereo audio line-in/line-out jack
● 1 x VGA

OS support:

Mac OS, MS Windows 7/ Windows XP/ Windows 2000, and Linux

Peripheral devices:


● 15" color monitor
● Customer pole display
● Optional 58mm/80mm thermal receipt printer
● Cash drawer
● Keyboard
● Barcode scanner
● Mouse

Physical characteristics of main machine:
| | |
| --- | --- |
| ● Dimensions(W x D x H) | 7.87 x 7.17 x 10.55 in, or 200 x 182 x 268 mm |
| ● Weight | 13.67 lb/6.2 kg |

For PC-based point of sale system solution, Hintel just provide hardware system platform only, the relevant terminal station application, back office management system, database management system and operating system (OS) are not available at Hintel, and the customers are required to do separate purchase from the third-party products and services.